Our Leaders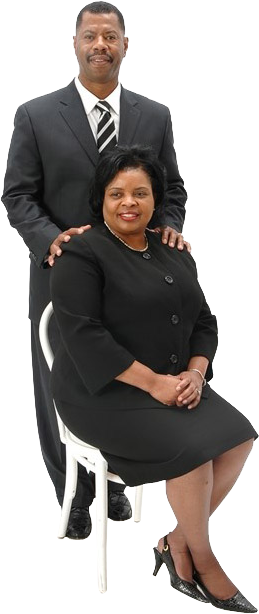 Prophet Milton Coats…
On March 8, 1960, William and Mary Coats, Sr. of St. Francisville, Louisiana was blessed with their third child, a son they chose to name Milton. From birth to the present, he has been a life-long resident of West Feliciana Parish.
Milton was reared in a home where God was reverenced, and the things of God were taught. As a result, at the tender age of nine (9) years old, he confessed his belief in Jesus Christ, accepted Him as his Lord and Savior, and was baptized at Sage Hill Baptist Church.
Milton graduated from St. Francisville High School in 1978. Understanding the importance of education, he enrolled at Southern University in Baton Rouge, Louisiana to study Agricultural Economics. In 1982, Milton received his Baccalaureate of Science Degree in Agricultural Economics. The next year, December 10, 1983, to be exact, he married Rose Comena, and to this union, Jonathan and Gabrielle were born.
He always tried to live a life that pleased God and while doing so, he accepted his call into the Ministry of God in 1981. He received his license to minister the Gospel in 1987. Although God-called, he completed further study of the Word of God through Rhema Correspondence School (Bible College) in 1988. He was officially ordained in October 1991 and was chosen to lead the people of God by becoming Pastor of Magnolia Full Gospel Baptist Church that same month. The vision given to him for the church comes from Isaiah 1:19-20, "if ye be willing and obedient, ye shall eat the good of the land: but if ye refuse and rebel, ye shall be devoured with the sword, for the mouth of the Lord hath spoken it". He operates in the office of the prophet after the Prophet Jeremiah.
In 2001, Prophet Coats was voted as one of America's "Most Loved Pastors" by Gospel Today Magazine and the members of Magnolia FGBC. He also serves as a School Board member for District 5 in West Feliciana Parish.
Prophet Coats is excited about the work the Lord is using him for in St. Francisville.
Email the Prophet at This email address is being protected from spambots. You need JavaScript enabled to view it.
First Lady Rose Coats…
Sister Rose Comena Coats, the First Lady of Magnolia Full Gospel Baptist Church (MFGBC), is indeed a chosen vessel of God. Lady Coats is a lifelong resident of West Feliciana Parish. This mighty woman of valor, who demonstrates God's word with power and anointing, was baptized at a young age at the Irondale Baptist Church.
First Lady Coats is a graduate of Saint Francisville High School, class of 1979. She further went on to pursue a Bachelor of Science degree in Secondary Education from Southern University Baton Rouge in 1983.
Lady Coats serves as Secretary on the Board of Directors, where she has been an active member since 1991.  She supports the gospel of Jesus Christ, the man of God and the vision of MFGBC. Lady Coats has a heart after God and she loves the things of God.
In addition to her service to the Lord, she serves on the Board of Directors for the Happi Llandiers, Inc. and is a former board member of the West Feliciana Parish Library Board with 18 years of service.
Email the First Lady at This email address is being protected from spambots. You need JavaScript enabled to view it.